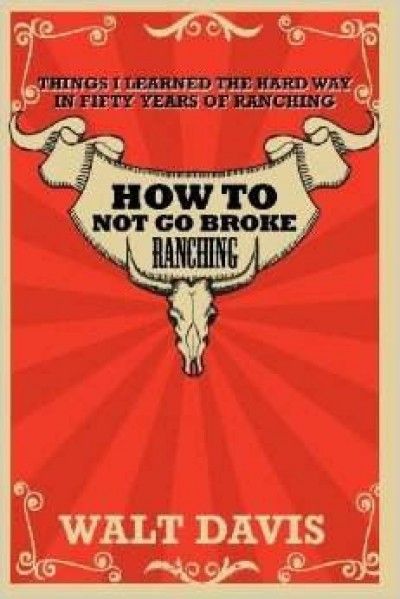 30
Also available for Kindle
How To Not Go Broke Ranching
Things I Learned the Hard Way in Fifty Years of Ranching
By Walt Davis
How to Not go Broke Ranching is the irreverent and sometimes humorous effort of a multi generation rancher to help people keep from making all of the mistakes that he made in fifty + years of ranching. It is drawn from real life though some names are changed or not given to protect the guilty.
The vast majority of ranches in the United States, whether commercial or life style, are neither profitable nor sustainable; the author explains why this is so and what must be done to improve the situation. The changes in philosophy and in management practices required to do this are spelled out in some detail by a man who used them to turn an almost bankrupt ranch into a consistently profitable and stable operation.
The book is not a how-to cookbook but rather is an attempt to get people to think of ranching, and agriculture in general, as the biological endeavors, run on sunshine and rainfall that they once were and should be again, rather than the industrial enterprises that are common today. The methods described have been proven effective by people all over the world and their results can be duplicated by anyone who is willing to think through the situation and is not afraid to be different. As the authors' father once told him, "You have two kinds of neighbors, half of them think you are crazy and the other half knows you are crazy." The management described is not yet universally accepted but it works from all standpoints: it is financially sound, ecologically sound and it is a good way to live and raise a family.
Both the new, or would be, rancher just starting out and the established rancher will find information and advice in this book that can be used to make their operation more profitable, less dependent on purchased inputs and markets and a whole lot more fun.
Read what ranchers have to say about How to Not Go Broke Ranching


Chip Hines- Rancher and Author, Colorado
Walt Davis has written a book that pokes holes in the University "Book" that has led us down the wrong trail for the last 40 years. Walt went to college and came home to the family ranch putting all he had learned to use. It was not working. The ranch was not making money.
Reality set in. It was time to use a different model. It was then that his studies of Holistic Management and practical experience alllowed him to develop a management plan for success.
This is an easy reading book full of logic which ties everything together.
Brian Russ - Rancher, Texas
Mr. Davis' book covers ranching from a new and refreshing perspective. This book is written from first-hand knowledge that ranching can be both ecologically and economically sustainable. This book details the steps needed to stop fighting nature and begin to make money and have fun while doing both.
TW Weyl, Rancher, Arkansas
Walt Davis speaks from his years of experience in livestock agriculture. He has worked with the conventional way of high input, high labor and low profit agriculture. And now works more to be in tune with nature to work with it, rather than against it.
I have incorporated many of the principles that Mr. Davis promotes several years ago into my operation. I now have dung beetles and other beneficial insects that keep internal parasites and flies is check in my cattle. I now have more grass than weeds. Even in drought conditions, I still have grass. There are always new things to see and observe each day. The real benefit from this book is that it will make you think about what you are doing and why.
It really is a old way of doing things made new. The person that can benefit the most from this book will be the one with a open mind and heart. And an willingness to take a hard look at the things that cost the most. Although this book is geared toward the livestock producer. The principles taught by Walt Davis I believe can be applied to any business.
Joe Hopping, Rancher, Oklahoma
My brother and I are in the cattle and hair sheep business and we're always looking for a better way to manage our operation. I'm an avid reader and I must say that "How to Not go Broke Ranching" is one of the VERY BEST agricultural books that I've ever read. At one time Walt managed his ranch according to how the Land Grant Universities advocated. He used nitrogen fertilizer, sprays and chemicals of all kinds, calved and kidded early, and did everything "by the book". Walt was growing lots of grass, weaning big calves, and getting lots of production but he was going broke doing it. When the cattle market went bust in the early 70's he knew he had to change things or lose his ranch and his livelihood. He started rotational grazing his pastures, quit using chemicals and sprays of any kind, changed his calving dates to be in sync with nature, added hair sheep to the livestock mix, and implemented some other practices that were unconventional at the time. By working in harmony with nature and spending as little as possible on purchased inputs Walt turned his ranch into a very profitable operation. "How to Not go Broke Ranching" is going on my desk with a few select books that I read often and time and time again. I highly recommend it to anyone in the farming and ranching business - from the beginner to someone that has spent their lifetime in the business