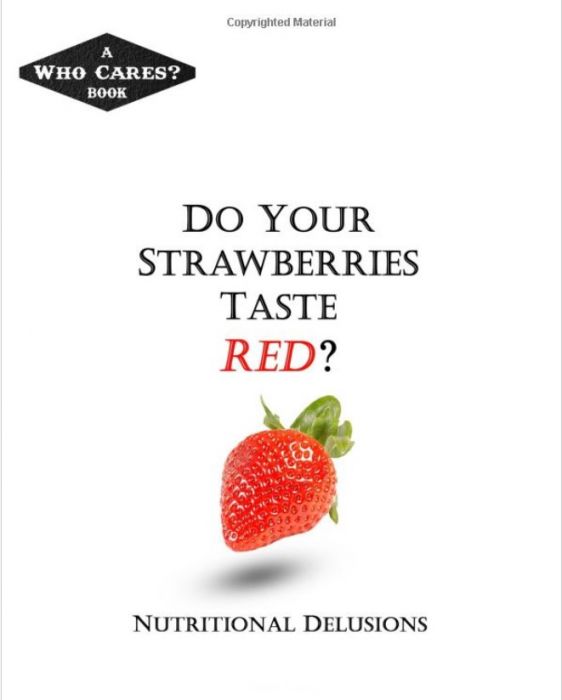 24.95
Do Your Strawberries Taste Red?
Nutritional Delusions
By Walt Davis and Tony Winslett
Why are so many people in poor health, when our world is in an unprecedented time of prosperity? Why is this happening in a society of abundance and with high availability of quality health care. Why when infectious disease killers such as small pox, cholera, typhoid, and polio have been largely conquered? It is the authors' opinion, backed by scientific research, that most of the increase in human illness is due to poor nutrition. Not poor nutrition caused by lack of food, but rather poor nutrition caused by a lack of quality food. Quality lacking due to what should be in our food and is not, but also by what is in our food that should not be. As people become more separated from the land – the source of food – they are more at risk to the many problems of modern agriculture; some of which (along with suggested remedies) are dealt with in this book. It is sad, but in today's world of corporate agriculture, food production is geared more to promoting profit margin, product appearance, and shelf life than to nutritional content. We have more than enough food but much of it consists of empty calories that are deficient in nutrient content. The purpose of this novel is to point out – in an easy to read form – the relationships between the nutritional quality of food and human health and to offer practical methods people can use to benefit themselves and their families. The science required to produce high quality, nutrient dense food is straight forward and well understood but it is not widely practiced by main stream food producers. There are several reasons for this but leading the parade is ignorance. Even people highly educated in the earth sciences, subscribe to the belief that to "Feed the world" we must adopt the tools and techniques of industrial agriculture. Not just the hybrid plants and enormous machines needed to till huge fields of crops grown as mono-cultures but also the full range of poisons to control pest organisms from plant diseases to internal parasites to coyotes. Poisons that can be sprayed on plants, incorporated into the soil, and even introduced genetically into plants so that insects (and people) that eat the crop, receive a dose of poison. Big Ag assures us that the dose is too small to harm large animals like us. Even more chemicals are applied as "fertilizers". Unlike traditional fertilizers – manure, rock dusts, green manure – in concentration these acid salt chemicals kill the soil life responsible for natural soil fertility. Agriculture – the promotion of life – has become a culture of death. Mineral nutrient content of all food stuffs produced under the new regime have decreased, over the last fifty years, from thirty to seventy percent. During this period chronic diseases associated with poor nutrition have become endemic. Heart disease, diabetes, hypertension, dementia, autism, and cancer are just some of the conditions that can be helped, often cured, by the approach suggested. This does not have to require heroic efforts, it is completely feasible to gain the benefits of healthy foods without disrupting your life style. Industrial agriculture has been a disaster to the environment, to human health, and to the financial well being of agricultural producers. These problems have developed, not because people were uneducated, but because so much of what has been taught by our universities is wrong. The focus of agricultural education has become, to maximize production. Without exception, this attitude results in damage to our environment. There is a better way; a way that provides the quality food and fiber we need in a manner that is financially sound, ecologically regenerative, and human friendly.